This Little Cedar Cottage features: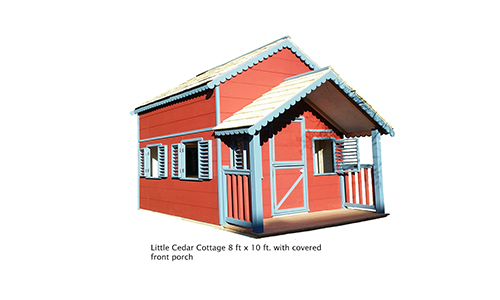 8 ft x 10 ft
Loft with ladder
6 windows
30 in. covered front porch
54 in. Dutch Door
This beautiful custom playhouse was ordered in Spring 2016. It features a 8 ft x 10 ft footprint and an additional 30 inches front deck for a total of over 12 ft. in lenght and 8 ft. width. It's simply huge...It was designed to be both functional and attractive with the bright barn red walls and the blue trims.This is the most spacious playhouse we build as a kit.
The price for this model will vary according to the options. $3999 natural unpainted
Go back - Click here to print this page

Please send questions and comments to cpf@playhousekits.com>
© Copyright - Canadian Playhouse Factory Ltd.
Page last updated