This Little Cedar Cottage features: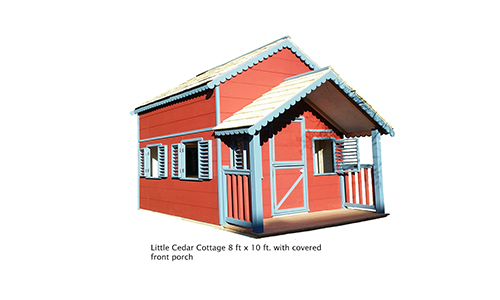 8 ft x 10 ft
Loft with ladder
6 windows
painted 2 colors
30 in. covered front porch
54 in. Dutch Door
This beautiful custom playhouse was ordered in Spring 2016. It features a 8 ft x 10 ft footprint and an additional 30 inches front deck for a total of over 12 ft. in lenght. It was designed to be both functional and attractive with the bright barn red walls and the blue trims.
The price for this model will vary according to the options chosen. The base price for a 8ft x 10 ft is $1799. This playhouse with all the options as shown on the picture is priced at:
$3259.00as shown
$2959.00 unpainted
Go back - Click here to print this page

Please send questions and comments to cpf@playhousekits.com>
© Copyright - Canadian Playhouse Factory Ltd.
Page last updated