Many kids playhouses to look at ...
Welcome to our showroom. Since our beginning in 1999,we built many different kids playhouses and we assembled a good collection of pictures. We would like to show different pictures we took or received over the years...
If you see a model that you like, simply click on the picture to see the details. Our kids playhouses are made from the best materials available. The Little Cedar Cottage are available in a wide selection of sizes to suit your needs, space and budget. Starting with our 4x8 (with a 32 square feet of playing area), you can upgrade with a variety of larger models from 6x8, 6x10, 6x12, 8x8, 8x10, and the supersized 8x12. See our price list for the basic cottages
Our kids playhouses are fully customizable. You can personalize your playhouse with the addition of extra windows, doors, flower boxes, dormers, front porch or a spacious loft. It's easy to create the perfect play area for children during summer months and you will be able to use the kids playhouses for storage durining winter months.
We finish the interior of all our  kids playhouses. The studs have been rounded with 1/2" radius to give a smooth splinter free finish. The attention to fine details is paramount and we believe that a playhouse should be as beautiful inside as it looks on the outside. We use solid water base stain on the interior because it is easy to wash and lasts for years.
Little Alexandra Cottages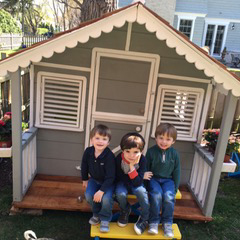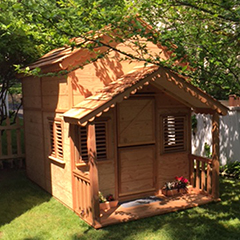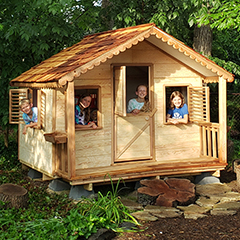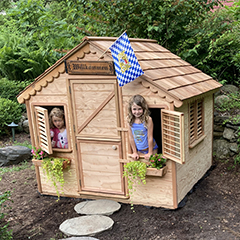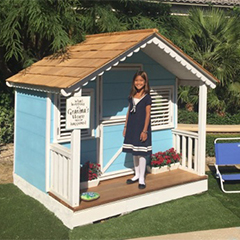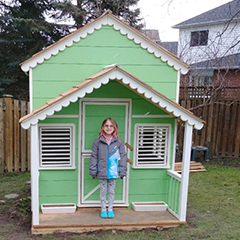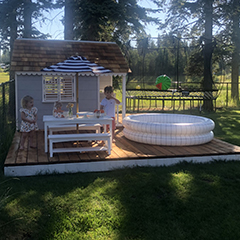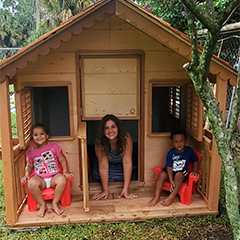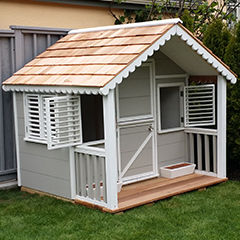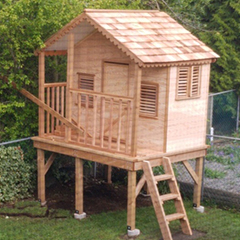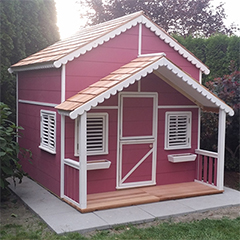 Little Cedar Cottages
We built so many more kids playhouses than what you see here. You can be assured that we have the best quality playhouse on the market.
100% Made in Canada
The Playhouse Factory Ltd.
P,O, Box 531 Coombs, BC, V0R1M0 Canada

Tel: (250) 240-8175
Please send questions and comments to cpf@playhousekits.com>
© Copyright - Canadian Playhouse Factory Ltd.
Page last updated .