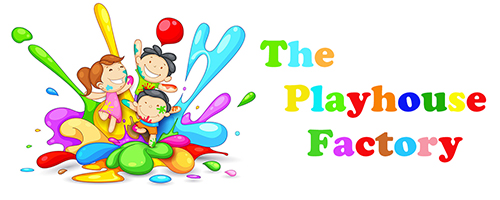 Wooden Playhouses catalog.
Welcome to our  catalog. We will feature different wooden playhouses sizes we have available. Just remember that any model that we build can be customized. We will also show some of our accessories to make your playhouse the perfect place for children to play.
Our Little Cedar Cottage
4 ft. x 8 ft. model. These wooden playhouses can be accessorized with all the options we offer, except the loft. Very well priced, it will be a great addition to any backyard. Cedar roof shingles and all clear redwood cedar accessories.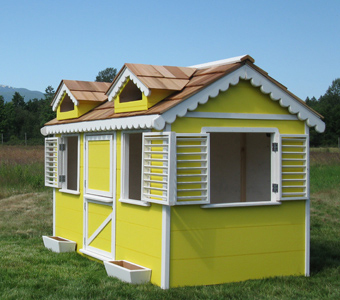 Larger Little cedar Cottage 6 ft. x 8 ft. This Little Cedar Cottage is the 8 ft. x 6 ft. model with the addition of a front porch. The footprint of the one shown is 8 ft. wide by 8 ft. 6 in. deep. The inside height is about 8 ft.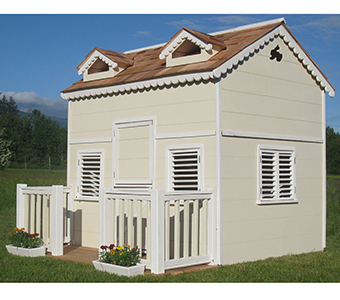 Little Cedar Cottage 8 ft. x 6 ft. + 30 in. front porch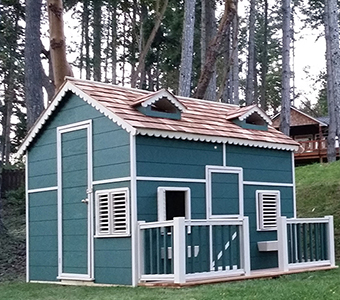 Little Cedar Cottage 8 ft. x 10 ft.
The 8 ft x 10 ft model is huge. Add accessories and you can have luxury wooden playhouses at the right price.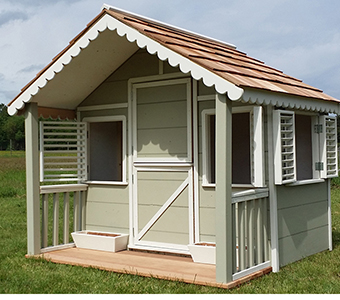 Little Alexandra's Cottage
Little Alexandra Cottages
The wooden playhouses are sold as a package. Ready to paint to your choice of colors. Plenty of options and the deluxe model has a covered front porch.
Little Alexandra's Cottage Standard
Options and Accessories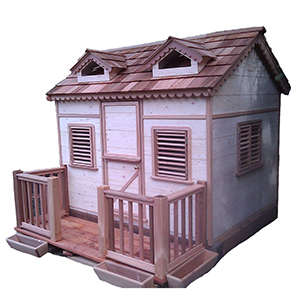 Taller version
The taller version is perfect for kids that are 6 and up. (they don't stay little forever…). It has a taller 54 in. Door and even grow ups can easily enter their beautiful wooden playhouses.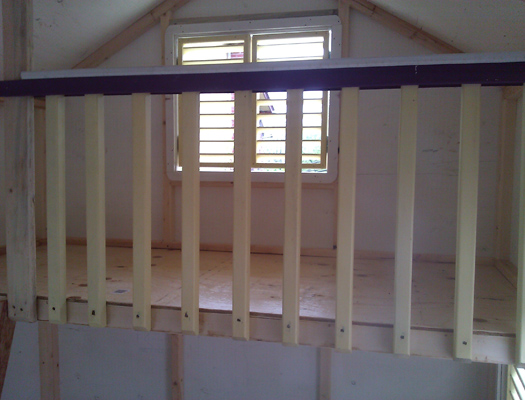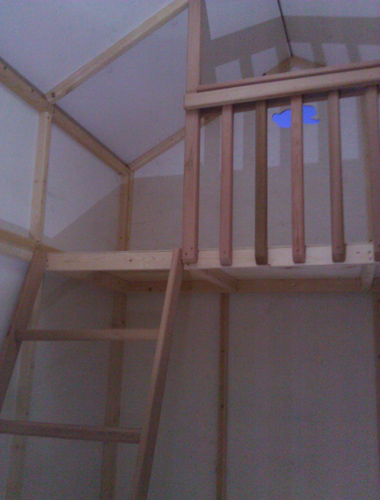 Loft view from the interior
The loft option is one of the favorite. Perfect for sleepovers and the loft can also be fitted with a "turbo slide" for endless fun. It comes with a safety railing and a ladder. This option is only available for models 6 ft x 8 ft. and larger.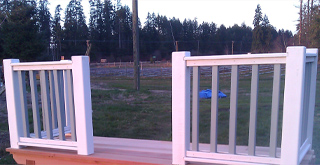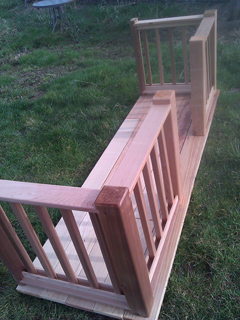 Redwood cedar deck and railings
Front porch can be added to any of our playhouse. Build with select redwood cedar, you can be assured of a long lasting deck. It's available in different sizes to suit your design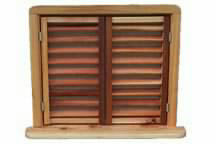 Window with shutters
Extra window. Add extra windows to your playhouse. They have shutters that will keep the rain out and let the fresh air flow through. You can add some plexi in the windows to winterize your play house. They can even be used as garden shed during the cold months.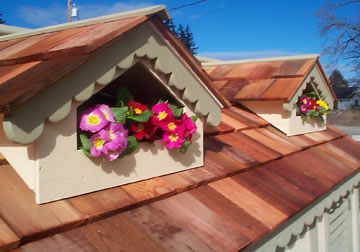 Dormers
Dormers and flower boxes.
Add dormers to your playhouse as the finishing touch. They are actually only there for the looks. We also have the regular flower boxes that can be set below windows or even on the ground.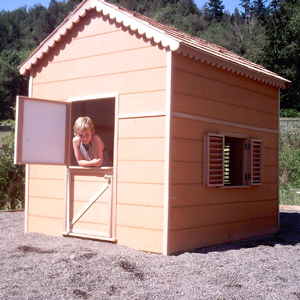 Dutch Door. 2 panel door and the upper part open and close independently
The Playhouse Factory Ltd.
P,O, Box 531 Coombs, BC, V0R1M0 Canada

Tel: (250) 240-8175
Please send questions and comments to cpf@playhousekits.com>
© Copyright - Canadian Playhouse Factory Ltd.
Page last updated